Back in 2018, I attended a series of Northbrook Writes lectures at the Northbrook Public Library. Each time, there was a flier on the table about the Soon to be Famous Illinois Author Manuscript Project. What a great deal–free to enter and the prizes were pretty nice: line editing, book cover, and an automatic semi-finalist for the 2020 Soon to Be Famous Illinois Author Project contest. So cool! And I had a manuscript that I thought could be ready for beta readers by the end of the year.
Fast forward to New Year's day 2019. I'm writing and going through my folders and I find the flier. Oh shit, it's due tomorrow! Seriously. It was the afternoon on January 1, 2019 and it's due January 2. No problem. The story was ready for beta readers, except I wanted to cut to get down under 100K. The book was at 108K. Well, I thought, I'll just submit it as it is.
I go to the web page to see how to submit. The manuscripts have to be between 50K and 100K. Uh oh. Amazingly, by 2 a.m., I cut over 8K from my novel. I was brutal. Does it need to be in there? No? Out of there. Can I cut the scene short? Maybe. Do it. I was merciless (but I saved the document in a separate file so I could go back). And it made the book sooooo much better. I never did end up adding any of it back.
The next day, I needed to put together a few things: logline, a brief synopsis, and a bio. But I had it all ready to go noonish on the due date. I submitted to Mike Hominick and he got right back to me, and the submission went through flawlessly.
Then I promptly forgot about it.
Fast forward to March 2019. I get a phone call from Eva Baggili to congratulate and inform me I'm a finalist. That's nice. There's going to be a ceremony at the Chicago Public Library. Cool, that's easy for me to attend. We're wrapping up the call when it occurs to me to ask how many finalists there are. Three.
That was the moment I realized it was a big deal. I thought there were going to be a bunch of us. That's when I started getting excited, when I realized that I'd really accomplished something. Just being a finalist was something I could put on query letters (and brag about on my website, but not in a braggy way, but in an I'm-down-to-earth-but-exceptional way).
I told people. The support I received just from that was wonderful. Friends and family congratulated me on Facebook. The Off Campus Writers' Workshop (OCWW) people let me announce it in their newsletter (okay, Susan Levi made me announce it). Other OCWW members congratulated me. Mike and Kate at the Nortbrook Library greeted me like an old friend at the next Northbrook Writes lecture. In a completely non-ironic way, I started to feel, well, famous. I've never had the experience of strangers rooting for me. I highly recommend it, if you can get it. Suddenly, I had a cheering section for my writing. And I didn't have to even win to get that.
A little before the announcement, Eva emailed me about doing an on-camera interview. They wanted to do one with all the finalists. She sent me three possible days and a range of times. I found one that would work. Being professionally-minded, I looked up online what to wear to a filmed interview. All black and all white is a no-no, and no red or green (green screen green). Well, the black restriction hurt. Two days beforehand, I went clothes shopping (for those of you who don't know me, I don't do that). I found a thin sweater dress that I thought would work no matter what the Chicagoland weather decided to do.
I was nervous. The entire car ride to the Fountaindale library in Bolingbrook, IL, I practiced my elevator pitch again and again. It started to flow and then it started to almost not make sense. I was losing the meaning behind the words and I was terrified I'd mix them up. For a few minutes, I played the radio. Then I went back to relentlessly babbling my elevator pitch. In the end it helped, though it wasn't perfect.
In the basement of the library, in a little conference room were Nikki Zimmermann, Kate Buckson, and Jeffery Fisher. They were all as nice as anyone you could ever meet. The video room was all black with three cameras and two chairs at angles to one another. It reminded me of Inside the Actor's Studio, which made the experience all the more exciting.
I was mic'd, took a few deep breaths, and was ready to go. The pitch went pretty well, so that was good. Kate was easy to talk to, and that made it so much better. The whole experience was fun. What writer doesn't like talking about their writing? (Answer: almost none). Mid-way through, Kate read some of the feedback, which was all positive and so encouraging. One even chose me as the winner! Awesome. Then she dropped the bomb that I wasn't there to be interviewed as a finalist, but as the winner.
I understood what she was saying, but it was as if my body went through a time-delay.  It was so unexpected that I was shocked to near incoherence, which delighted the co-conspirators (I know this because they told me how great it was several times).  I won.  I won.  
They had a plaque for me with my name and my book title, The Color of Trauma, on it. I stared at it and believed it and didn't believe it at the same time. Many photos were taken (Thank you, Adrianna)–some with plaque and some without. I hugged everyone several times. They probably thought I had some kind of condition. Everyone there was so happy for me, which made it all the sweeter.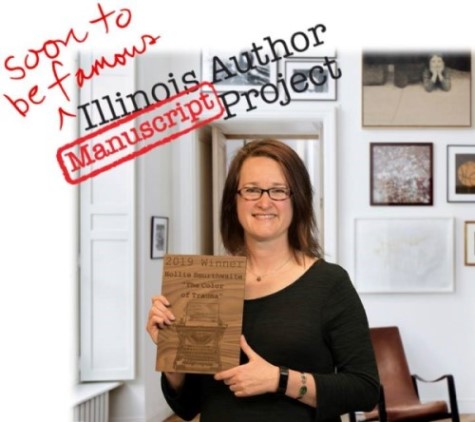 On the ride back to Chicago, I would, every few minutes say, "I won" out loud, to myself.
I keep coming back to the elation at so many people cheering for me. That's been the best part of the whole experience. I mean, winning is great, and I'm so excited to see how the line editor improves my work, but it's the people that really move me.
There was a pre-conference get-together at Cliff Dwellers on Tuesday, April 16, and I was invited, along with a guest. I took my husband, which was a good choice as he's my biggest fan, socially adroit, and good company. I got to meet Eva in person, see my new friends Jeffery and Nikki, and meet some new people, Anna at RAILS and Mitchell Davis at BiblioBoard. Once again, everyone was so nice and supportive and excited about my book.
Even now, I can't quite wrap my mind around all the support and all the opportunity. But, I'll get there. Of course, when I do, it won't be as thrilling.
Right now, I'm focusing on one last read through of the novel. After that, I'll go through the manuscript with the tedious and annoying task of word searching to eliminate too many repeats of my favorite words. My characters tend to lean a lot. They also like to turn. And, oh my, how they love to look and gaze, seem and feel. After that, I'll be ready for my line editor, I think.
In the meantime, I have my latest project, a paranormal romantic comedy. It's tentatively titled It's Raining Men, inspired by the song by the same title, but with witches. Intriguing, right?
A writer's work is never done, but since it's a labor of love, I don't really mind. At least, not most days.
Thanks to all of you out there, strangers and friends alike, who have supported me. As I've said before, writing really is a solitary task that can't be done alone.